Second Home
Erika Hock
28.04.2017 - 25.07.2017
Opening: 27.04.2017 at 6 pm
The second home is the mark of a generation of restless commuters and urban nomads. An almost paradoxical contrast to the notion of a native home, the term describes a temporary residence for dynamic agents in the flexible stages of their lives. On another level, the term can also be seen to point towards the dissolving boundary between private life and the workplace. The workplace has increasingly become a subjectivized space, which promises to economize workflows while veiling itself in an aura of well-being. Amidst yoga courses, plant arrangements, and healthy foods, our willingness to always be connected and available grows, while actual work is diluted to the point of illusion. 
Erika Hock's sculptural works are the result of an investigation into these new concepts of well-being and their manifestations. Opened in London in 2017, Second Home is a limited-access creative office, whose architecture and interior "is inspired by academic research in evolutionary psychology and biophilia, and every aspect has been carefully designed to support well-being, productivity, and creativity."[1] The exhibition's title has accordingly been borrowed from this constructed second home.
Hock's hybrids of design, architecture, and fashion evoke the permanent visitors of our everyday worlds. In her series Elbows & Knees, powder-coated steel tube constructions cavort in slapstick fashion. The anthropomorphized, object-like inter-agents run counter to their original functional ideas. The chair is no longer usable as such, having become instead a playful companion. Tables which seem to be exploring the possibilities of their own construction or even performing yoga exercises animate us to do the same. The feedback loop created between the objects and the visitors' bodies inverts one of design's fundamental ideas, namely replicating the form of the body. The results are character-objects that we recognize as partners, familiar allies with whom we can enter playful relationships. They have inevitably traded in their efficiency in order to become intractable objects, troublemakers who no longer obediently fulfill their tasks.
These works investigate the extent to which objects are integrated into our lifeworlds and asks what kind of individual traces can still be inscribed in a society organized around flexible working methods and the poles of mobility and permanence. Furthermore, they thematize the ways in which incentives can be produced through design and architecture and the extent to which these practices are at risk of merely becoming instruments of "social business," a capitalist marketing strategy for the concept of a home that transforms the private sphere into the workplace.
[1]https://secondhome.io/#architecture [last accessed: 16.04.2017.]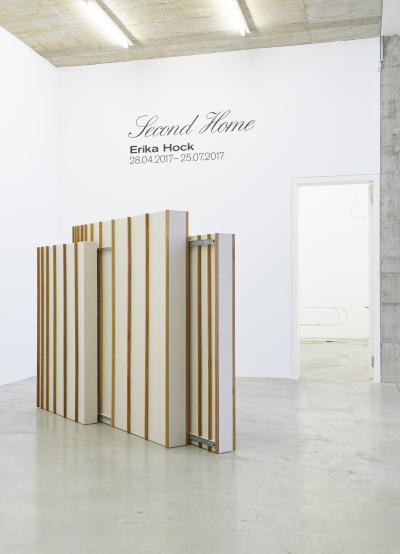 Erika Hock
Dreischeibenhaus
2010
wood, linen, sliding rail
200 x 190 x 60 cm
Courtesy the artist, Sofie van de Velde Gallery, Antwerp and Cosar HMT, Düsseldorf


2017 © Philara Collection, Düsseldorf
Image: Paul Schöpfer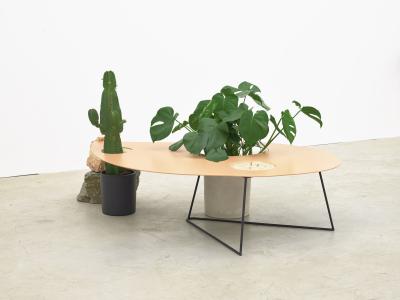 Erika Hock
Roaming zone
2017
aluminium, lacquer, plants, stones, sand, cigarette buds
Courtesy the artist, Sofie van de Velde Gallery, Antwerp and Cosar HMT, Düsseldorf
50 x 175 x 110 cm

2017 © Philara Collection, Düsseldorf
Image: Paul Schöpfer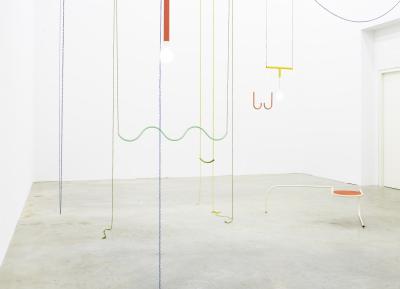 Erika Hock
Untitled
2017
powder coated tubular steel, chains, cables, light bulbs
variable dimensions
Courtesy the artist, Cosar HMT, Düsseldorf and Sofie van de Velde Gallery, Antwerp
2017 © Philara Collection, Düsseldorf
Image: Paul Schöpfer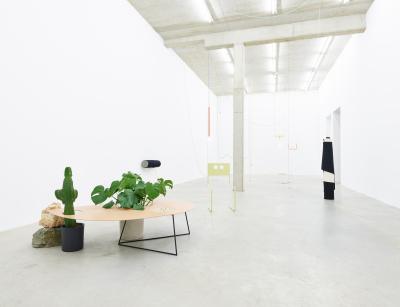 Erika Hock
Second Home
Installationview, Philara Collection 2017

2017 © Philara Collection, Düsseldorf
Image: Paul Schöpfer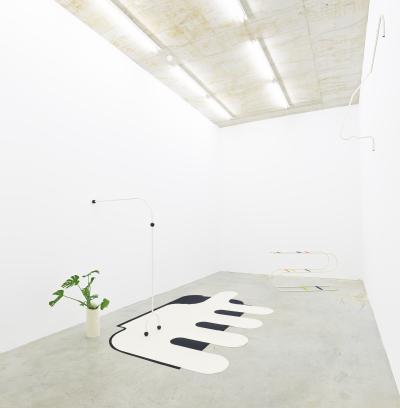 Erika Hock
Second Home
Installationview, Philara Collection 2017
2017 © Philara Collection, Düsseldorf
Image: Paul Schöpfer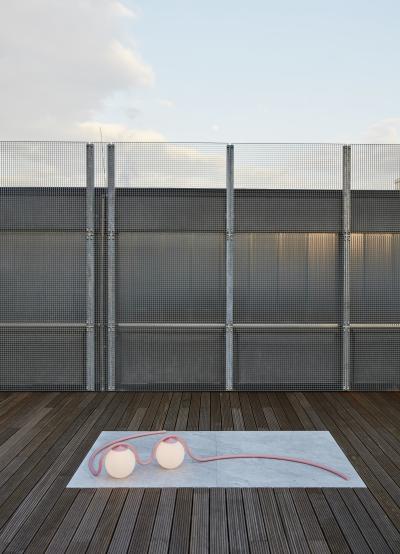 Erika Hock
Untitled
2017
steel, acrylic glass, bulbs, cable, marble
36 x 193 x 290 cm
Courtesy the artist and Philara Collection
2017 © Philara Collection, Düsseldorf
Image: Paul Schöpfer