I've Only Got Eyes for You
New acquisitions by the collection
25.03.2023 - 01.10.2023
Opening: 24.03.2023, 6-9 pm
Artists: Jean-Marie Appriou; Kader Attia; Halil Balabin & Merav Kamel; Huma Bhabha; Miriam Cahn; Klára Hosnedlová; Brook Hsu; Anna Hulačová; Rashid Johnson; Melike Kara; Leigh Ledare; Jonathan Lyndon Chase; Kresiah Mukwazhi; Murat Önen; Anys Reimann; Pipilotti Rist; Amy Sillman; Theresa Weber; and Ambera Wellmann.
In its new exhibition, I've Only Got Eyes For You, the Philara Collection is pleased to present a selection of recent acquisitions. The artists featured use collage, painting, sculpture and photography for figurative representations that address both personal and wider societal issues. With and within these works, they explore and extend definitions of the portrait. Through moments of recollecting the past and looking ahead to the future, they help us navigate the present. The debate on our roles and self-location against the background of digital realities and social conditions is multi-layered and complex. The focus of the artists in the exhibition ranges across themes of visibility and representation, and discourses on decoloniality and post-humanity, meeting these challenges with images that seek to make our reality more bearable. Some works thus renegotiate issues of stereotypical gender perceptions, sexuality, power relationships, and experience of violence, while others pursue the quest for complex identity narratives that run counter to the images that surround us every day.
Most of the works in the exhibition were acquired in the last two years; they include work by established artists, such as Kader Attia, Huma Bhabha, Miriam Cahn, Pipilotti Rist and Leigh Ledare, alongside others by internationally active younger artists, including Jean-Marie Appriou, Halil Balabin & Merav Kamel, Kresiah Mukwazhi, and Ambera Wellmann. Artists who have recently featured at the Philara Collection and other exhibition venues in the Rhineland, such as Melike Kara, Anys Reimann, Murat Önen and Theresa Weber, are also represented, some with works never previously shown.
The exhibition title is taken from Pipilotti Rist's 1996 edition of the same name, which also bears the parenthetical subtitle Pin Down Jump Up Girl. This work comprises a hologram photo of the artist herself, mounted on plexiglass and attached with a suction cup to the screen of a television. Here Rist offers a nod towards both the entertainment value of art and the conditions governing its production and collecting. The artist foregrounds her own self-representation, which for her is not merely a means of artistic production, but also speaks to her roles as subject in society, as woman, and as artist. The title, which closely echoes that of a song by composer Harry Warren and songwriter Al Dubin, made famous through hit versions by the Flamingos and Art Garfunkel, also has relevance for presentation of the collection. The canon of a collection of contemporary art open to the public must, of necessity, be accessible and expandable, while the need to take decisions inevitably means forgoing other interesting works. As Al Dubin, the Flamingos and Art Garfunkel sing, "Maybe millions of people go by / But they all disappear from view / And I only have eyes for you".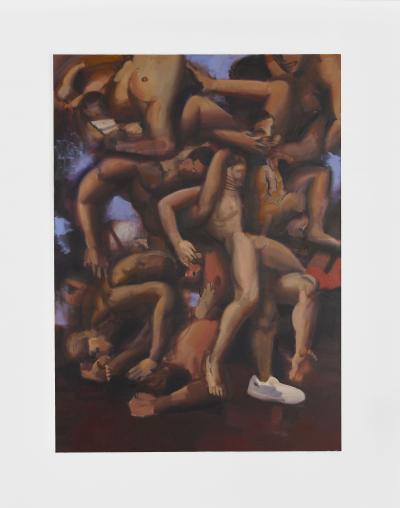 Murat Önen
Longstack, 2022
2023 © Sammlung Philara, Düsseldorf,
Foto: Kai Werner Schmidt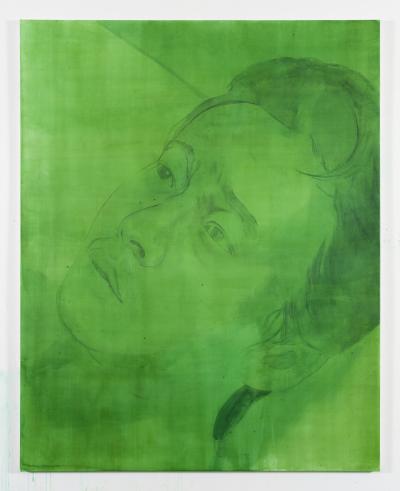 Brook Hsu
Hsiao-Kang, 2021
© the artist, Kraupa-Tuskany Zeidler, Berlin; Sammlung Philara, Düsseldorf
Photo: Stephen Faught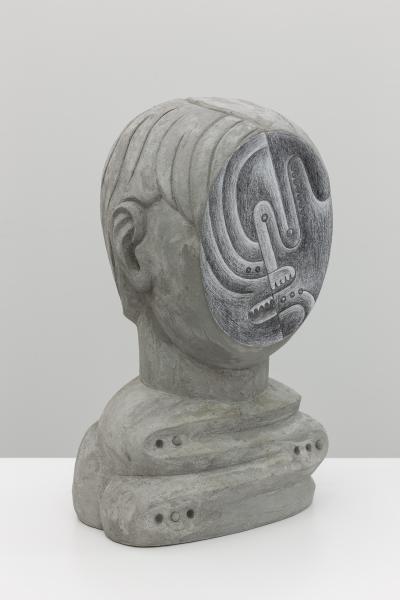 Anna Hulačová
Little Monster, 2021
© the artist; Sammlung Philara, Düsseldorf,
Photo: Bruno Lopes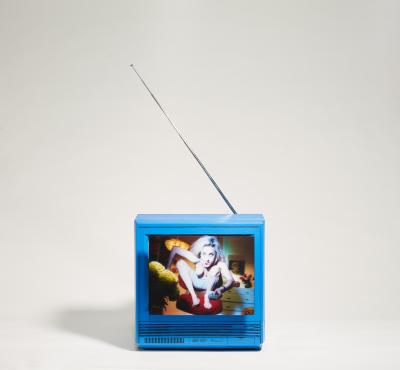 Pipilotti Rist
I've Only Got Eyes for You - (Pin Down Jump Up Girl), 1996
© VG Bild-Kunst, Bonn, the artist, Sammlung Philara, Düsseldorf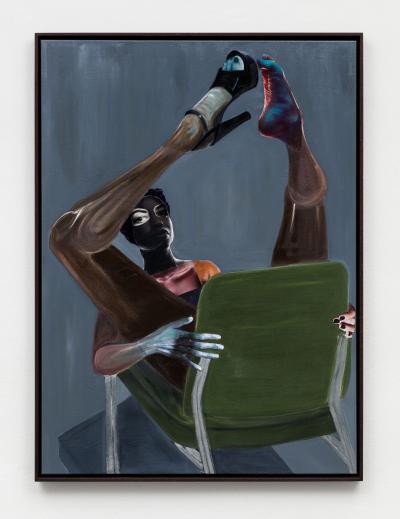 Anys Reimann
peek-a-boo (Guck-Guck), 2022
© the artist, Sammlung Philara, Düsseldorf,
Photo: Johannes Bendzulla
Breathing Water, Drinking Air
Collection presentation
12.08.2022 - 25.06.2023
Opening: 11.08.2022, 4-9 pm
Jan Albers, Sam Anderson, Gili Avissar, Maximiliane Baumgartner, Hicham Berrada, Julius von Bismarck, Katinka Bock, Andrea Bowers, Nathalie Djurberg & Hans Berg, Alex Grein, Thomas Grünfeld, Petrit Halilaj, Nschotschi Haslinger, Camille Henrot, Anne Imhof, Allison Katz, Zsófia Keresztes, Per Kirkeby, Kinke Kooi, Corinne von Lebusa, Rosa Loy, Rosilene Luduvico, David Nash, Susan Philipsz, Laure Prouvost, Thomas Scheibitz, Anna Vogel, Raphaela Vogel
The Philara Collection is pleased to announce the opening of its comprehensive new collection presentation, Breathing Water, Drinking Air. To demonstrate its wide range and the diverse points of interconnection that stem from the exuberance and asymmetrical directions of a passion for collecting, works are juxtaposed in new correlations and with a specific theme. 
The presentation shows never previously exhibited works, while also offering new perspectives on those already familiar. It encompasses both international and local contemporary art, including photography, painting, video, sculpture, installation, and performance. Breathing Water, Drinking Air engages with reflection within and on nature, and the hierarchisation of humanity and nature. The thematic focus of the exhibition is on permeable boundaries, exchange and interaction, as well as nature's capacity to act in times often termed the 'Anthropocene', where the relationship between humanity and nature has fundamentally changed. The precious and evocative resources of air and water represent here a world of unknown existences, as well as fundamental concepts that disclose new perspectives. Breathing and drinking are understood not only as activities essential for provision and survival but also as elements of the renegotiation of relations between humanity and the environment in overcoming anthropocentrism. Thus, the works on show also stimulate questions on new narratives, and sensitivity to our mutual connectivity and permeability. To what extent can we use artistic means to acquire new knowledge about our physical, biological, chemical, and spiritual world? What do these works reveal to us about our capacity to make contact and establish dialogue, and about our forms of coexistence?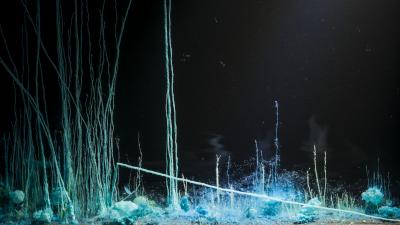 Hicham Berrada
Tranche, Présage
2019/2022
© Trevor Good, Courtesy of the artist and Wentrup, Berlin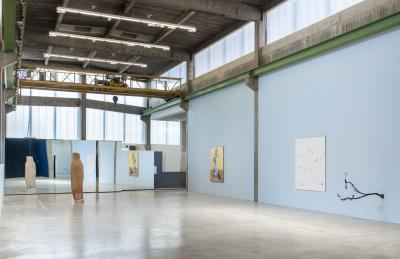 Breathing Water, Drinking Air
Installation view 2022
© the artists and Philara Collection, Düsseldorf

Photo: Kai Werner Schmidt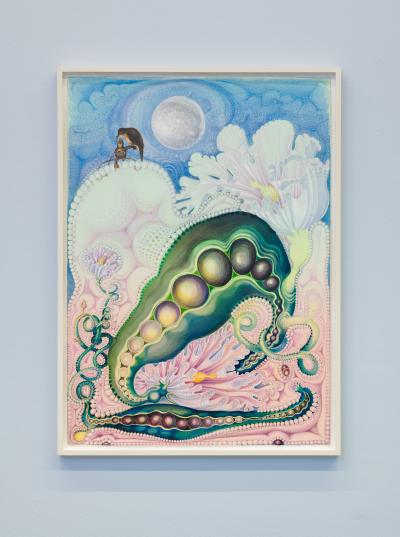 Kinke Kooi
Grotesque of raising (2), 2018
© the artists and Philara Collection, Düsseldorf

Photo: Kai Werner Schmidt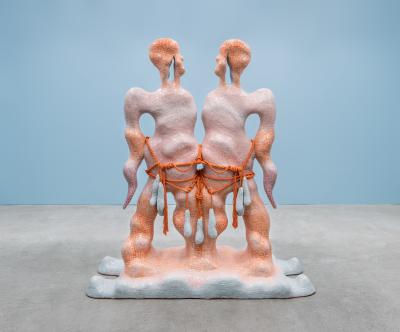 Zsófia Keresztes
Initiation, 2018
© the artists and Philara Collection, Düsseldorf

Photo: Kai Werner Schmidt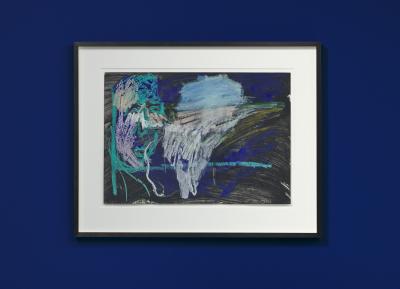 Per Kirkeby
Ohne Titel (Læsø), 1983
© the artists and Philara Collection, Düsseldorf

Photo: Kai Werner Schmidt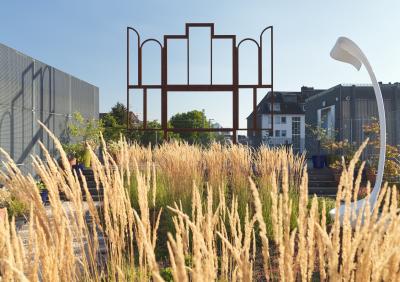 Installation view (Rooftop Garden) 2022
© Kris Martin, Andreas Schmitten and Philara Collection, Düsseldorf

Photo: Kai Werner Schmidt