Breathing Water, Drinking Air
Collection presentation
12.08.2022 - 25.06.2023
Opening: 11.08.2022, 4-9 pm
Jan Albers, Sam Anderson, Gili Avissar, Maximiliane Baumgartner, Hicham Berrada, Julius von Bismarck, Katinka Bock, Andrea Bowers, Nathalie Djurberg & Hans Berg, Alex Grein, Thomas Grünfeld, Petrit Halilaj, Nschotschi Haslinger, Camille Henrot, Anne Imhof, Allison Katz, Zsófia Keresztes, Per Kirkeby, Kinke Kooi, Corinne von Lebusa, Rosa Loy, Rosilene Luduvico, David Nash, Susan Philipsz, Laure Prouvost, Thomas Scheibitz, Anna Vogel, Raphaela Vogel
The Philara Collection is pleased to announce the opening of its comprehensive new collection presentation, Breathing Water, Drinking Air. To demonstrate its wide range and the diverse points of interconnection that stem from the exuberance and asymmetrical directions of a passion for collecting, works are juxtaposed in new correlations and with a specific theme. 
The presentation shows never previously exhibited works, while also offering new perspectives on those already familiar. It encompasses both international and local contemporary art, including photography, painting, video, sculpture, installation, and performance. Breathing Water, Drinking Air engages with reflection within and on nature, and the hierarchisation of humanity and nature. The thematic focus of the exhibition is on permeable boundaries, exchange and interaction, as well as nature's capacity to act in times often termed the 'Anthropocene', where the relationship between humanity and nature has fundamentally changed. The precious and evocative resources of air and water represent here a world of unknown existences, as well as fundamental concepts that disclose new perspectives. Breathing and drinking are understood not only as activities essential for provision and survival but also as elements of the renegotiation of relations between humanity and the environment in overcoming anthropocentrism. Thus, the works on show also stimulate questions on new narratives, and sensitivity to our mutual connectivity and permeability. To what extent can we use artistic means to acquire new knowledge about our physical, biological, chemical, and spiritual world? What do these works reveal to us about our capacity to make contact and establish dialogue, and about our forms of coexistence?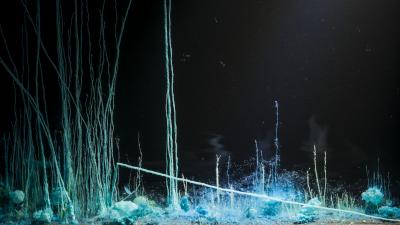 Hicham Berrada
Tranche, Présage
2019/2022
© Trevor Good, Courtesy of the artist and Wentrup, Berlin
Acoustic Ocean
Ursula Biemann
12.08.2022 - 25.09.2022
Opening: 11.08.2022, 4-9 pm
In parallel with its Breathing Water, Drinking Air exhibition, the Philara Collection presents Acoustic Ocean (2018), an installation by Swiss artist Ursula Biemann (b. 1955, Zurich, lives and works in Zurich)., Connected to and extending the collection display, this installation offers a different perspective on the theme of water, raising several questions – What can we add to the narratives on water in regard to process-related change, and to our bodily perception? How can we make the ways our planetary ecosystem communicates audible?
The video installation Acoustic Ocean focuses our attention on what else resonates with and within water: new forms of life, fictional interrelations and developments in the planetary ecosystem. In Acoustic Ocean, a female scientist on the Lofoten Islands in northern Norway investigates the acoustic ecology of the ocean. She is simultaneously marine biologist, indigenous Sámi woman, diver, DJ, and marine acoustician. Equipped with hydrophones, parabolic microphones and other instruments, through these sensors she links her body to the sonic environment of the vast underwater multiplicity. The seabed is a vital communication space for myriads of deep-sea creatures. The poor visibility in the ocean depths means that the sonic dimension is the primary means of communication, navigation and survival in this tenebrous liquid universe of which we know so little. Acoustic Ocean points to the possibility of a greater connectedness between living beings of our ecosystem as well as between different forms of intellectual and bodily knowledge. Biemann draws our attention to different levels and developments in narratives associated with water, as well as its environmental state and its  condition as a habitat for the life forms within it. These include analyses of military strategies, research, fictional narratives – science fiction in particular –and climate activism, all of which are linked to the ocean.
Ursula Biemann studied at the School of the Museum of Fine Arts, Boston, the Instituto de Bellas Artes, San Miguel de Allende, Mexico, the School of Visual Arts, New York, and on the postgraduate Whitney Independent Study Program, New York. Since 1988 she has worked in cooperation with committed researchers. In 2011, she co-founded the art and media project World of Matter, which has been archived by the House of Electronic Arts in Basel since 2019. Ursula Biemann has held curatorial and teaching positions at the Shedhalle Zurich, the School of Art and Design (HEAD), Geneva, and the Institute for Critical Theory at Zurich University of the Arts (among others). In 2008, she was awarded an honorary doctorate in humanities by Umeå University, Sweden. She is playing a key role in founding the Universidad Biocultural Indígena Panamazónica – UNBIP, the first indigenous university in the southern Colombian Amazon region. Her texts are regularly featured in art magazines and feminist publications.
Ursula Biemann has been awarded several prizes for her artistic work, including the Prix Meret Oppenheim (2009) and the Prix Thun for Art and Ethics (2018). Her works have been shown internationally in solo exhibitions at the Kunstmuseum Basel (2020), the UC Santa Cruz Institute of the Arts and Sciences, California (2018), the Anthology Film Archives, New York (2018), and Neuer Berliner Kunstverein (2013), among others. In addition, her works have been shown in international group exhibitions, biennials, and festivals, including the Istanbul Biennial (2022), the Jeju Biennale, South Korea (2022), the Taipei Biennial, Taiwan (2019), the House of Electronic Arts, Basel (2018) and the Centre Pompidou-Metz (2016).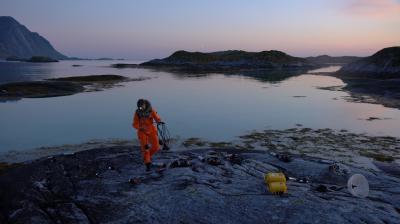 Ursula Biemann
Acoustic Ocean, 2018
Video, 18 Min., color, sound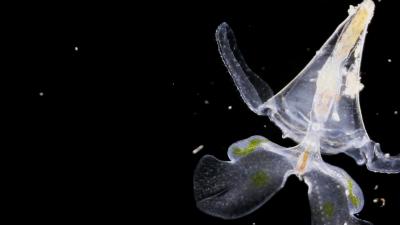 Ursula Biemann
Acoustic Ocean, 2018
Video, 18 Min., color, sound
Ursula Biemann
Acoustic Ocean, 2018
Video, 18 Min., color, sound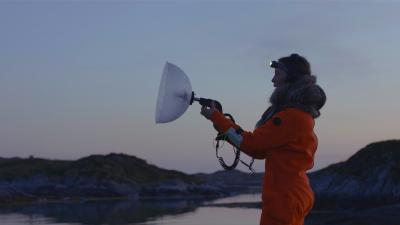 Ursula Biemann
Acoustic Ocean, 2018
Video, 18 Min., color, sound