1999
Thomas Kiesewetter
28.03.2015 - 10.05.2015

The sculptures presented in Berlin-based artist Thomas Kiesewetter's exhibition 1999 developed after this marker in time. For the presentation at the Sammlung Philara, he has combined works from this earlier period with more recently dated ones.
Kiesewetter's sculptures are syntheses of curving biomorphic protrusions, which taper into sharp-edged geometric contrasts. The resulting effect is a cascade of convex and concave forms and their intervening spaces. Depending on one's perspective, there emerges a compound of euclidean or fluid organizations.
The majority of the sculptures are made of solid metal, sheet metal, and plastic, while their construction with screws and interlocking joints is left visible. The alleged severity and dominance of the industrial materials is broken through color. Gentle pastel tones make an ironic play on the connotations of steel and industry. This is further intensified by the objects' fragility: voluminous metal bodies are carried by gracile supports, countering the robustness and stability of their provenance. Despite their static nature, the solid and sheet metals contort themselves into a viscous state of matter.
These qualities also shed light on the process of their making. Starting with painterly drawings, in which Kiesewetter tests out the interplay of line and surface, he then produces cardboard models. These 1:1 scale maquettes are subsequently combined with other elements and translated into sculptural figures.
The lightness of the painterly gesture is maintained during the translation into three dimensions. Moreover, a series of anthropomorphic associations emerge, which are further intensified by titles like Schreiend [Screaming] or untitled (Crouching Boy, Large), pointing towards the feelings and attitudes of human states.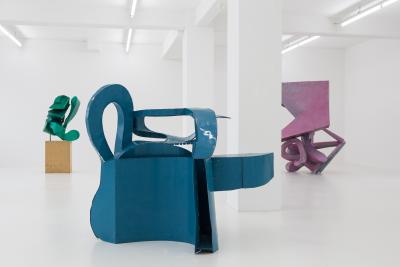 Thomas Kiesewetter
1999
Installationview Philara Collection 2015
2015 © Philara Collection, Düsseldorf,
Foto: Maria Litwa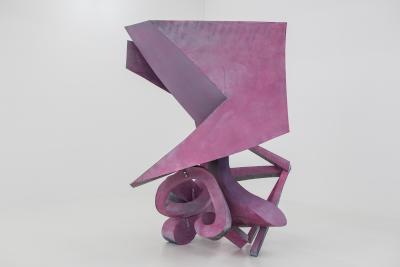 Thomas Kiesewetter
Untitled (Crouching Boy, Large)
2013
metal, paint
195 x 182 x 160 cm
Courtesy the artist and Sies+Höke, Düsseldorf
2015 © Philara Collection, Düsseldorf,
Foto: Maria Litwa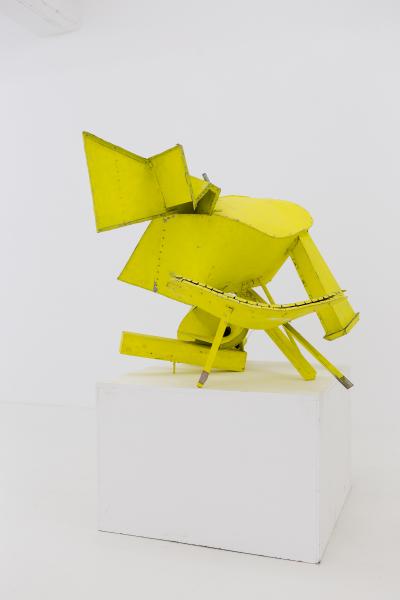 Thomas Kiesewetter
Around 1500
2008
sheet metal, wood, paint
103 x 125 x 114 cm
Courtesy the artist and Sies+Höke, Düsseldorf
2015 © Philara Collection, Düsseldorf
Foto: Maria Litwa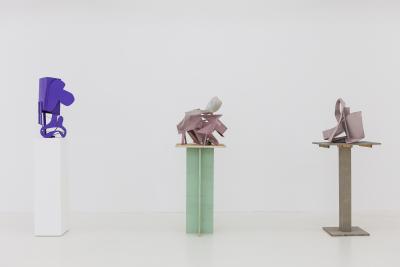 Thomas Kiesewetter
1999
Installationview Philara Collection 2015
2015 © Philara Collection, Düsseldorf,
Foto: Maria Litwa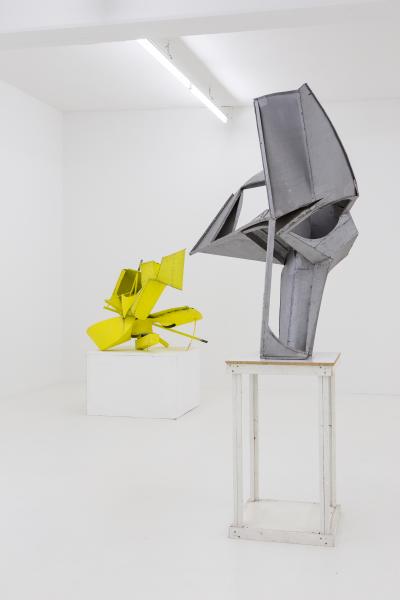 Thomas Kiesewetter
Untitled (silver) & Around 1500
2003
metal and wood
209 x 100 x 83 cm

2008
sheet metal, wood, paint
103 x 125 x 114 cm
Courtesy the artist and Sies+Höke, Düsseldorf
2015 © Philara Collection, Düsseldorf,
Foto: Maria Litwa