Social Fabric
Nevin Aladağ
14.04.2018 - 01.07.2018

With Nevin Aladağ, the Philara Collection is showing an artist who has devoted herself to the ornament as a synonym of complex social constitutions.
In her cross genre works, Aladağ investigates questions about origins, identity and gender, by means of cultural artefacts and hand down plots. The dismantling of limits, the deconstruction of "the foreign" and the linking of antagonistically perceived cultural statements with organisations are the focal points in her work.

Nevin Aladağ tries to make the nature of our communities, their social structures as well as the interests of its individual protagonists herself included readable. In her series Colors, which has been an integral part of the Philara café Glas Lennarz since 2016, she covered diverse lamps by Poul Henningsen with variously coloured pantyhose. Through this procedure, the luminosity of the lamps changes, and the design icon Henningsen obtains a new interpretation. Simultaneously, the artist introduces a discourse about gender, skin colours and politics, which articulates a heterogeneous ideology. The series Pattern Matching is about the comparison of "western and oriental structures". The lines of an American basketball court are assembled by a number of different parts of an oriental carpet. The patters are inconsistent. A complex reference system of alleged opposites such as privacy and publicity unfolds. Through the overlapping of patterns, that belong to different semantic systems western play versus oriental ornamentation.

Aladağ brings about a new, hybrid significance. Music and dance are recurring elements in Aladağ's fields of interest. In her performance Musikzimmer, which, inter alia, was also performed during the documenta 14 in Athens, she transforms pieces of furniture into musical instruments. This furniture can be used to play music, without losing its original functions. Instead, a double function is being formed, which requires an active handling with the object. Nevin Aladağ forms bodies of resonance, negotiation spaces and stimulates a revision of one's own position in them.
Nevin Aladağ was born in 1972 in Turkey, and now lives and works in Berlin. She studied at the Munich Academy of Fine Arts with Olaf Metzel. In 2017, she participated in documenta 14 in Athens/Kassel, as well as the 57. La Biennale di Venezia.
Nevin Aladağ
Social Fabric, pink bow, 2018
carpet collage on wood
230 x 150 cm

Social Fabric, pink arrow, 2018
carpet collage on wood
230 x 150 cm

Courtesy the artist and WENTRUP, Berlin
2018 © Philara Collection, Düsseldorf
Photo: Paul Schöpfer, Köln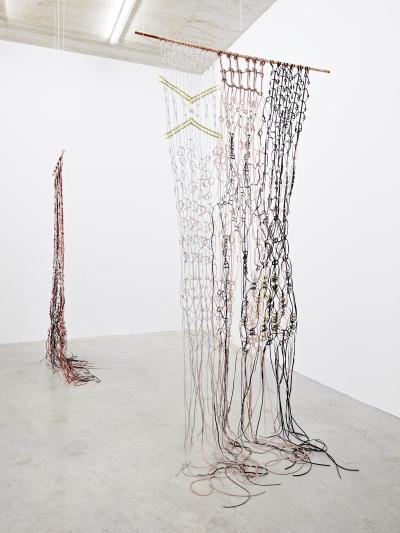 Nevin Aladağ
Makramé, current flow 1, 2017
power cable, loudspeaker cable, LAN cable, telephone cable, copper, zinc, PVC
185 x 170 cm

Makramé, current flow 2, 2017
power cable, loudspeaker cable, LAN cable, telephone cable, copper, zinc, PVC
180 x 170 cm

Courtesy the artist and WENTRUP, Berlin
2018 © Philara Collection, Düsseldorf
Photo: Paul Schöpfer, Köln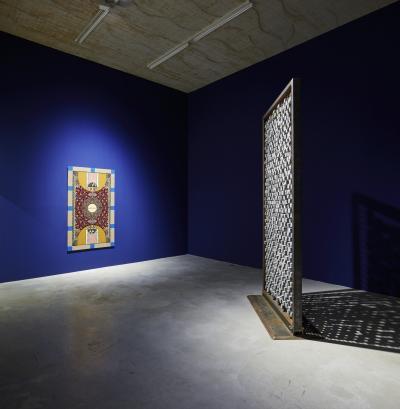 Nevin Aladağ
Pattern Matching (flowers red), 2012
carpet collage
192 x 112 x 4 cm

Courtesy the artist and Philara Collection, Düsseldorf

Screen II, 2016
Rauriser blue black cobblestones (589 pieces), steel frame, stainless grid
310 x 150 x 15 cm

Courtesy the artist and WENTRUP, Berlin
2018 © Philara Collection, Düsseldorf
Photo: Paul Schöpfer, Köln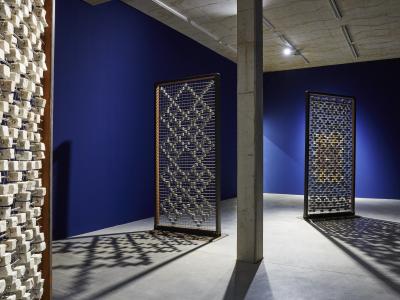 Nevin Aladağ
Installationview Social Fabric,
Philara Collection 2018

Courtesy the artist and WENTRUP, Berlin
2018 © Philara Collection, Düsseldorf
Photo: Paul Schöpfer, Köln

Nevin Aladağ
Screen I (detail), 2016
Rauriser white marble cobblestones (320 pieces), steel frame, stainless grid
310 x 150 x 15 cm

Courtesy the artist and WENTRUP, Berlin
2018 © Philara Collection, Düsseldorf
Photo: Paul Schöpfer, Köln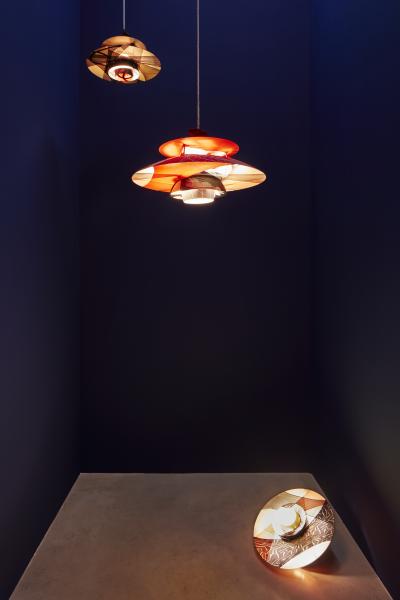 Nevin Aladağ
Colors, dots and stripes, 2017
metal, nylon stockings, PH4 (Poul Henningsen)
Ø54 cm

Colors, red net, 2017
metal, nylon stockings, PH4 (Poul Henningsen)
Ø54 cm

Colors, day and night, 2016
metal, nylon stockings, PH5 (Poul Henningsen)
Ø50 cm

Courtesy the artist and WENTRUP, Berlin
2018 © Philara Collection, Düsseldorf
Photo: Paul Schöpfer, Köln