Parallels
Barbara Kasten
02.02.2018 - 18.03.2018
Opening: 01.02.2018, 6pm
Having displayed her large retrospective Stages in the Institute of Contemporary Art Philadelphia in 2015, the Chicago based Barbara Kasten will show her first retrospective exhibition in Germany with Parallels at Philara Collection.
Photographic investigations, the relation to volume as well as the exploration of light and shadows are fundamental and recurring elements of Barbara Kasten's work. Movement and the link to painting, sculpture and architecture through photography also play a key role. Her Construct arise in action, by moving through an installational set produced with requisites such as glass, mirrors or metal constructions. The scene of this constructed stage is set with colourful light and is formed into an image architecture.
Since 1986, Barbara Kasten expanded this approach into the architectural space. Her series Architectural Site addresses the subject of corporate architecture. Through monumental light arrangements and large mirrors, Kasten transforms impressive bank- and museum entrance halls into abstract constructions. Familiar post-modern architecture und their respective connotations are thus deconstructed. Even though the formation process is analog, they will appear as psychedelic and digital collages. In addition to the influences of the Light and Space-Movement, Kasten's work is pervaded with ideas that had been developed at the Bauhaus. Besides the influences from her studies with Trude Guermonprez at the CCAC, Kasten's series Amalgam, Studio Construct or Scene show similarity to the early photographic experiments of László Moholy-Nagy.
Barbara Kasten removes painting, sculpture, architecture and photography from their original functions, and transforms them into abstract displays. In doing so, she plays with dimensions, makes transparency and movements visible, phenomenologically approaches the relationship between object and camera and manifests light as a creative premise.
Other than Philara Collection, Kasten's photography can be found in renowned international collections such as: Centre Pompidou Paris; Tate Modern London; Generali Foundation; Museum of Modern Art NY; Whitney Museum NY; J. Paul Getty Museum L.A.; High Museum of Art, Atlanta; National Gallery of Art, Washington DC; Museum der Moderne Salzburg; Hirshhorn Museum Washington.
The film High Heels and Ground Glass: Pioneering Women Photographers (1990, produced in collaboration with Deborah Irmas) will be shown next to a portrait of Barbara Kasten during Düsseldorf Photo Festival 2018 at Philara Collection.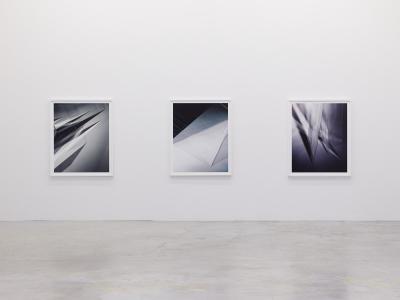 Barbara Kasten
Studio Construct 8, 2007
archival pigment print
127 x 101,6 cm

Studio Construct 78, 2009
archival pigment print
127 x 101,6 cm

Studio Construct 69, 2008
archival pigment print
127 x 101,6 cm

Courtesy the artist and Kadel Willborn, Düsseldorf
2018 © Philara Collection, Düsseldorf
Photo: Paul Schöpfer, Köln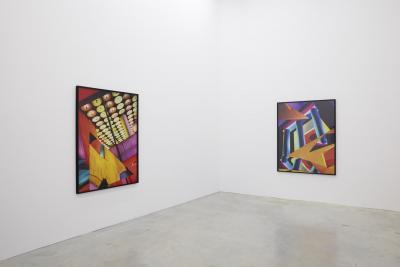 Barbara Kasten
Architectural Site 15, Whitney Museum of America Art, October 19, 1987
cibachrome
152,4 x 127 cm

Courtesy the artist and Philara Collection, Düsseldorf

Architectural Site 8, Loyola Law School, Los Angeles, CA, December 21, 1986
cibachrome
152,4 x 127 cm

Courtesy the artist and Kadel Willborn, Düsseldorf
2018 © Philara Collection, Düsseldorf
Photo: Paul Schöpfer, Köln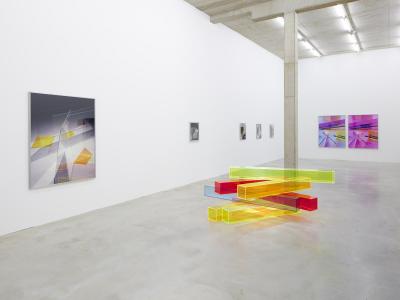 Barbara Kasten
Installationview Parallels,
Philara Collection 2018

Courtesy the artist and Kadel Willborn, Düsseldorf
2018 © Philara Collection, Düsseldorf
Photo: Paul Schöpfer, Köln
Barbara Kasten
Parallels II, 2017
fluorescent acrylic
81,5 x 249 x 244 cm

Courtesy the artist and Kadel Willborn, Düsseldorf
2018 © Philara Collection, Düsseldorf
Photo: Paul Schöpfer, Köln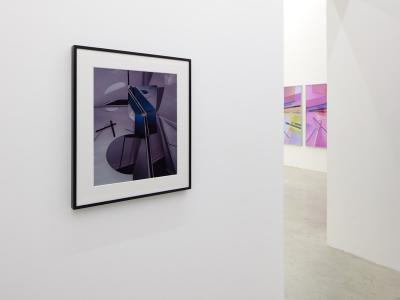 Barbara Kasten
Construct PC 5B, 1981
polacolor photograph
60,96 x 50,8 cm

Composition 1T-1E, 2017
2 Fujiflex digital prints
160,9 x 245 cm

Courtesy the artist and Kadel Willborn, Düsseldorf
2018 © Philara Collection, Düsseldorf
Photo: Paul Schöpfer, Köln