ADJUSTABLE MONUMENTS
Group Show
26.02.2022 - 26.06.2022

Azra Akšamija, Maximiliane Baumgartner & Alex Wissel {in cooperation with Madeleine Bernstorff, Ewa Einhorn & Karolin Meunier, Timo Feldhaus}, Black Quantum Futurism, Michael Blum, Danielle Brathwaite-Shirley, Zuzanna Czebatul {in cooperation with Lazaro Rincón, Léa Mainguy, Jullie Bijoux, Zoé Couppé, Natália Drevenáková, Kristýna Gajdošová, Yuliya Herhalava, Marie Olšáková, Samuel Stano, Marie Zandálková}, Aleksandra Domanović, Petrit Halilaj, Ayrson Heráclito, Ülkü Süngün
How can history and collective memory be mediated with the present? What forms of commemoration does the future need? Stemming from the debate around the re-evaluation of monuments in public space, the Adjustable Monuments group exhibition poses questions on whom, what, and above all, in what form we want to commemorate in future. Nine artistic positions, including those of international artists and collectives, cast light on aspects of current opinion in regard to statues, monuments and memorials, and are complemented by new forms of memory culture.
Monuments in public space are often problematic. Memorials can, for example, serve right-wing and antidemocratic groups as settings for nationalist ideological legitimisation, represent the exclusion of marginalised groups and, in addition, project a one-sided, seamless construct of history with a claim to eternity. Alongside urgent questions of who has the right to write history, and by whom it is written, the Philara Collection wishes to focus on and discuss the forms and functions of commemoration, and their origins and narrative construction. What alternative concepts of history can be formulated? Does commemoration serve the interests of state and capital, or does it offer society as a whole a sphere for continuing negotiation?
The positions in the exhibition encompass novel approaches to the memory culture of our present time. They draw upon a variety of practices: these include ritual acts and adoption of immaterial, temporary, flexible, interactive, process-oriented, multidirectional, and collective approaches. The representative function, the understanding of temporality, commemorative practices, and the materiality of monuments are thus reformulated, and augmented by important aspects of the current culture of debate, including political commissioning processes and representation.
The Adjustable Monuments exhibition will be accompanied by an extensive complementary programme in the spring of 2022, including a round-table discussion, and a publication.
The exhibition is realized with the kind support of the Kunststiftung NRW and the German-Czech Fund for the Future.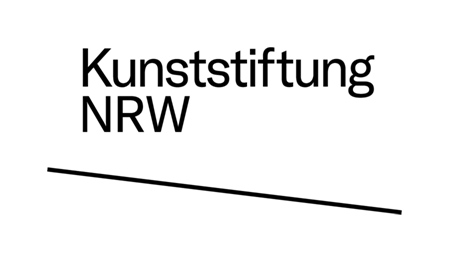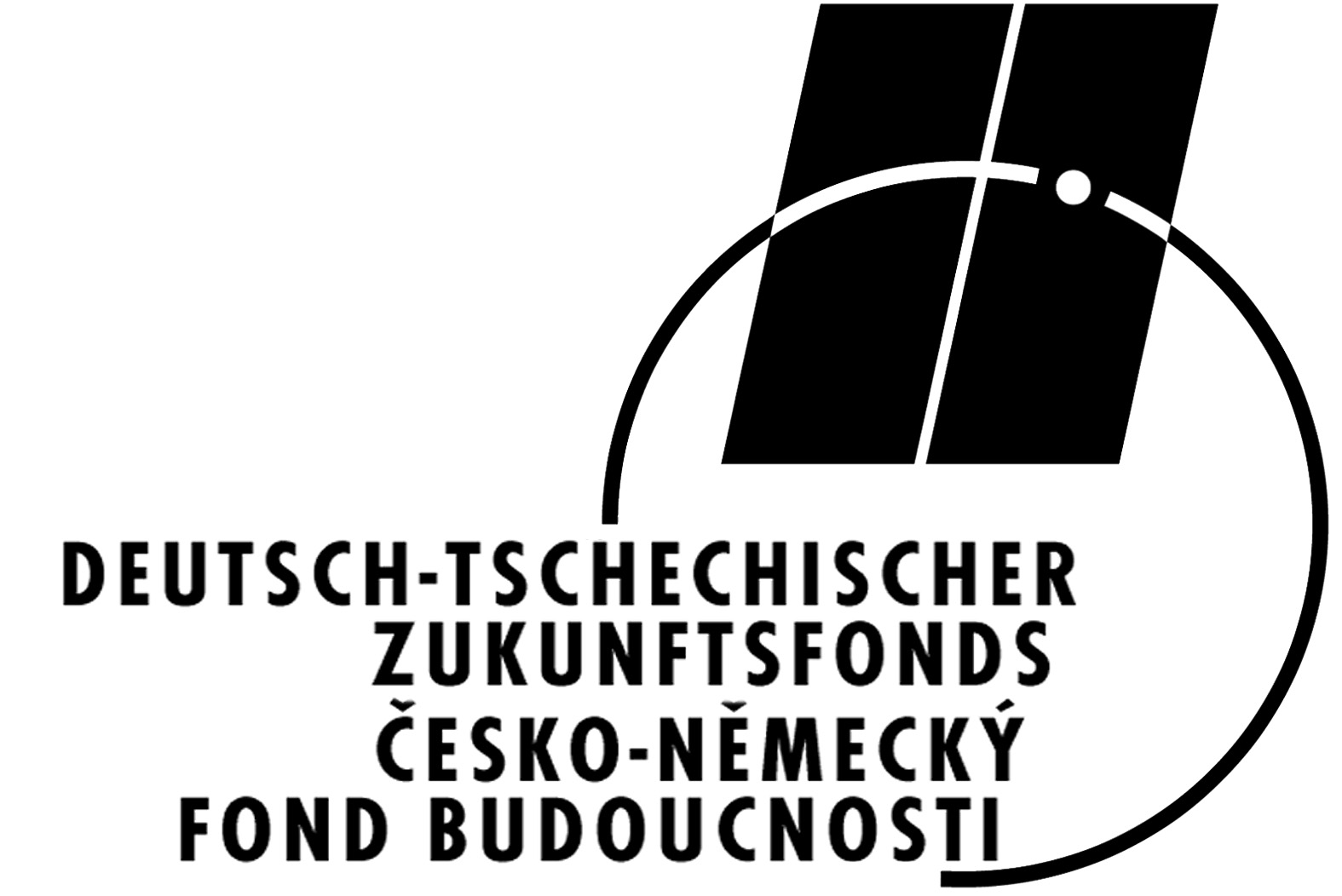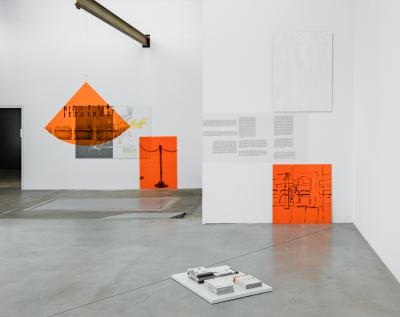 Maximiliane Baumgartner & Alex Wissel
Courtroom
2017
Installation view Studio for Artistic Research, Düsseldorf 2017
© the artists
Photo: Johannes Bendzulla
Black Quantum Futurism
Write No History
2021
Video still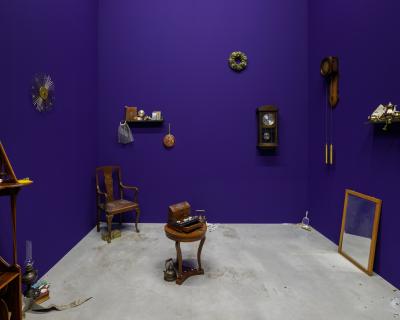 Black Quantum Futurism
Quantum Time Capsule
2022
Installation view
© the artists, the authors, Galerie Max Mayer, Düsseldorf & Nagel Draxler, Berlin | Köln | München, and Philara Collection
Photo: Kai Werner Schmidt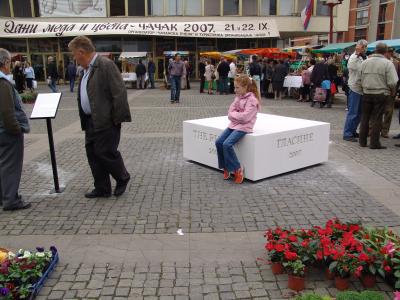 Michael Blum
The Rumour (Or How Samantha Fox Helped Čačak Reach Fame) 2007
2007
Plynth and text on stand in front of cultural center, Čačak (Serbia) Produced by Memorial Museum of Nadežda and Rastko Petrović, Čačak
© the artist
Photo: Astrid Wege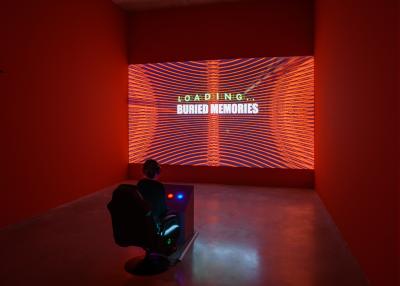 Danielle Brathwaite-Shirley
WE ARE HERE BECAUSE OF THOSE THAT ARE NOT
2020
Video still

Blacktransarchive.com
© the artist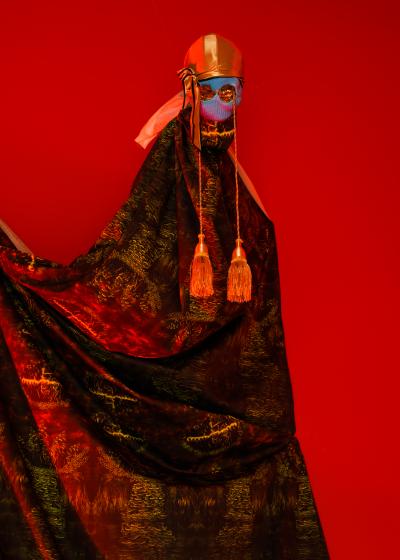 Danielle Brathwaite-Shirley
DEMON
2022
Installation view
© the artist and Philara Collection
Photo: Kai Werner Schmidt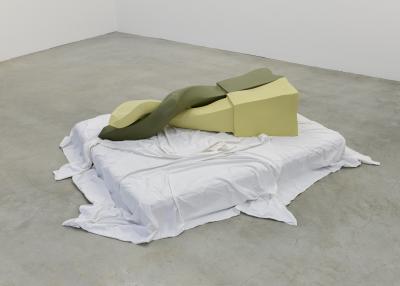 Zuzanna Czebatul
Daze
2020
Sculpture
© the artist
Photo: Heinrich Holtgreve / Ostkreuz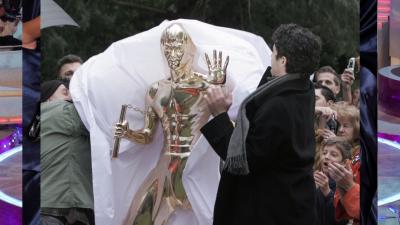 Aleksandra Domanović
Turbo Sculpture
2010
Video still
© Courtesy of the artist and Tanya Leighton, Berlin & Los Angeles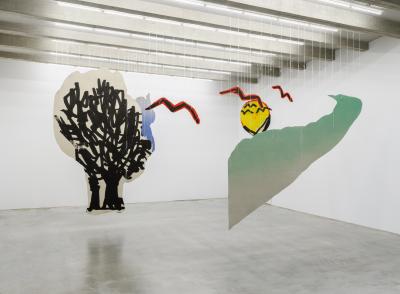 Petrit Halilaj
Very volcanic over this green feather
2021
Installation view at Tate St Ives, 2021
© the artist; ChertLüdde, Berlin; Kamel Mennour, Paris/London
Photo: Tate Photography (Matt Greenwood)
Ayrson Heráclito
The Cleansing of Goree Slaves House
2015
Video still
© the artist and Southern Stars Projects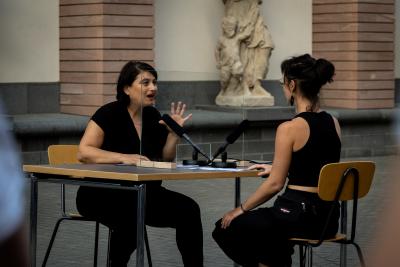 Ülkü Süngün
TAKDIR. DIE ANERKENNUNG
2020
Performance, Implantieren Festival
© the artist
Photo: Christian Schuller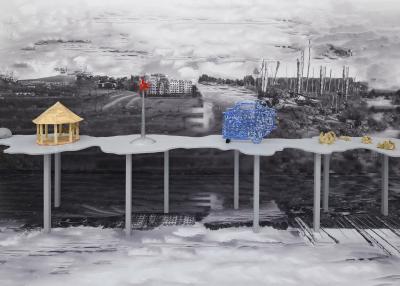 Zuzanna Czebatul in Kooperation mit Lázaro Rincón, Léa Mainguy, Jullie Bijoux, Zoé Couppé, Natália Drevenáková, Kristýna Gajdošová, Yuliya Herhalava, Marie Olšáková, Samuel Stano, Marie Zandálková
Installation view
2022
© the artists and Philara Collection
Photo: Kai Werner Schmidt