intercom
Thomas Grünfeld
02.09.2017 - 22.10.2017
Opening September 1st at 6PM
Thomas Grünfeld's work first achieved international attention with his misfits series, a group of hybrid animal sculptures which he began in the late eighties. Less known, however, are his upholstered objects. After his 2014 retrospective Homey at the Museum Morsbroich in his hometown of Leverkusen, Grünfeld, who is also a professor for sculpture at the Kunstakademie Düsseldorf, will present a.o. several upholstered objects from the the series Fireplaces (2016) alongside the twelve-part dye-transfer series Heimspiel (1999).
The exhibition's title, intercom, originates from the Latin words 'inter' - between - and 'communicare' - to communicate. In everyday usage, the term designates a communication system that transmits human language via electronic signals. Here, communication often takes place via a perforated metal interface containing a speaker and microphone. Meanwhile, the messages' recipient remains concealed. In the work Margaret, the aesthetics of intercom interfaces is adapted and supplemented with a portrait of a woman smoking. Her hand is seductively poised on her hip as she carries a small wooden log in her arm. Both the title and the text within the image refer to the common female name Margaret. Margaret Lanterman, the so-called 'Log Lady' is a sociophobic cult figure from David Lynch's TV series Twin Peaks, who only communicates via a piece of wood. The log which speaks for her functions as a medium for transmitting information and thus as a sort of personal intercom. Thomas Grünfeld's work often uses such thres- holds to domesticate the uncanny. His soft imitations of fireplaces oscillate between a stuffy domestic recognizability and a more pronounced artificiality as well as between functionality and decor, thus producing complementary sensations. Here, he draws on private domestic contexts as well as some of Richard Artschwager's ideas for furniture objects.
Grünfeld takes what might otherwise be considered 'natural' to the point of travesty, thus producing irritations within the customary. The staging of the twelve dye-transfer prints in the series Heimspiel, which were decisively influenced by the aesthetic of Carlo Mollino's early polaroids, evoke an architectural equivalent of the intercom. The boudoir—a small room situated between the bedroom and the living room—has traditionally offered women a space of retreat or even served as a spatial preface to foreplay. It architecturally mediates between refuge and private, as well as between naturalness and staging.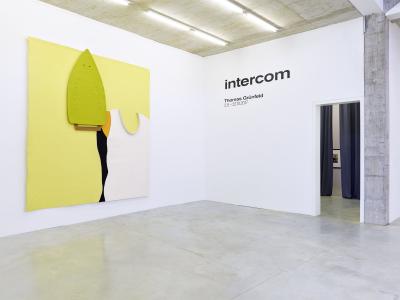 Thomas Grünfeld
Waffe II
2014
Felt
383 x 332 x 5 cm
Courtesy the artist and Massimo de Carlo, Mailand / London / Hongkong
2017 © VG Bild-Kunst, Bonn
Foto: Paul Schöpfer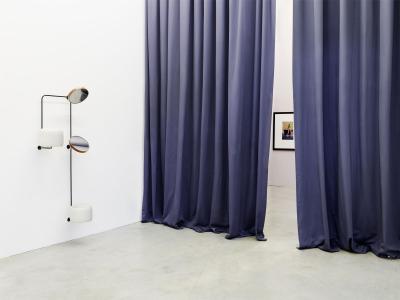 Thomas Grünfeld
5. Station
2014
Iron, wood, mirror, leather
160 x 75 x 36cm
Courtesy the artist
2017 © VG Bild-Kunst, Bonn
Foto: Paul Schöpfer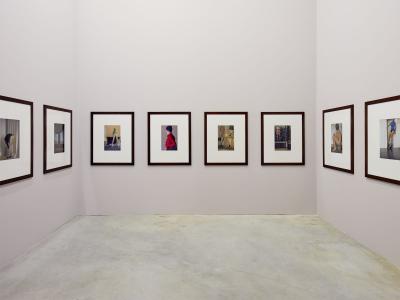 Thomas Grünfeld
Heimspiel (Portfolio of 12 dyes, Exemplar 6/12)
1999
dye-transfers
each 95 x 77 cm
Courtesy the artist
2017 © VG Bild-Kunst, Bonn
Foto: Paul Schöpfer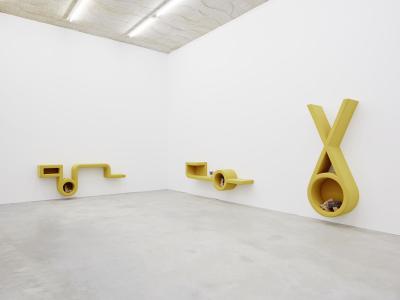 Thomas Grünfeld
intercom
Installationview Philara Collection, 2017
2017 © VG Bild-Kunst, Bonn
Foto: Paul Schöpfer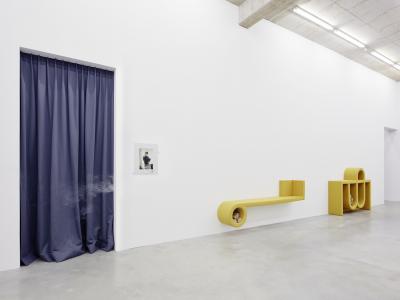 Thomas Grünfeld
intercom
Installationview Philara Collection, 2017
2017 © VG Bild-Kunst, Bonn
Foto: Paul Schöpfer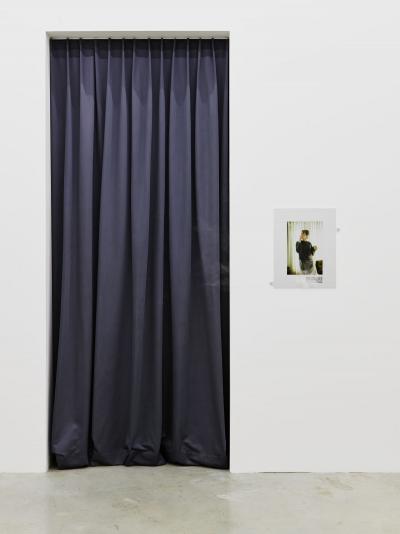 Thomas Grünfeld
Margaret
Exemplar 3/16
2017
Aluminium, milled, printed, engraved
54 x 48 x 0,25cm
Courtesy the artist and ABYME, London
2017 © VG Bild-Kunst, Bonn
Foto: Paul Schöpfer