Glas Lennarz is a reminiscence of the glass factory Lennarz, that used to be at home where Philara Collection can be found since 2016. Apart from large events and festivities the Glas Lennarz team aims to create a favourite place. Its mix of industrial charm, art and highend products is central to it's ambitions. Whether it's breakfast, lunch or a glass of wine after work, Glas Lennarz is a multifaceted as it is singular.
Joanna Epstein, the propietor, has a single formula; quality instead of quantitiy.
The opening hours are independet of the opening hours of the collection.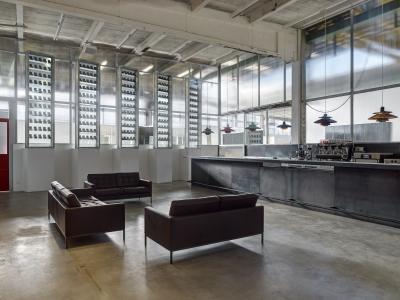 Glas Lennarz with works by Andreas Schmitten and Nevin Aladag, 2016 Foto: Stefan Müller
THU 11 AM - 8 PM
FR / SA / SU 11 AM - 6 PM